AMMONITOR - AMMONIT ONLINE PLATFORM
Conveniently monitor your campaign for wind and solar resource assessment as well as power curve measurement with AmmonitOR – MEASNET-compliant and 24/7 online available.
With AmmonitOR (Ammonit Online Report) you can quickly and conveniently check your measurement data online – from everywhere and around the clock. Reliably manage, monitor and analyse your measurement stations for wind and solar site assessment as well as power curve measurement. Latest encryption technology protects your valuable measurement data at AmmonitOR.
Display your measurement statistics in various plots and charts. Check your data for integrity and plausibility according to the MEASNET guideline with the help of configurable filters. Thus you can easily and early detect any deviations and defects can be corrected at an early stage. Do not lose your valuable measurement data due to any unforeseeable fault.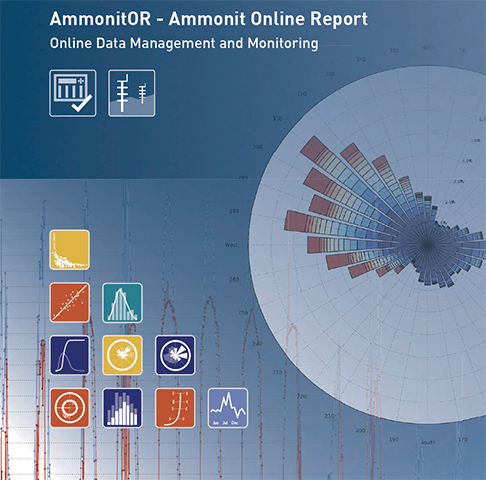 For documentation purposes, AmmonitOR automatically generates PDF reports. Or export selected measurement data for further analysis into a file format of your choice. Use AmmonitOR to arrange your processes more efficiently and conveniently.
Protect your valuable measurement data from manipulation by unauthorized parties. Prevent unauthorized reading of your files. AmmonitOR can digitally sign and encrypt your data. Hence, you protect data integrity and authenticity.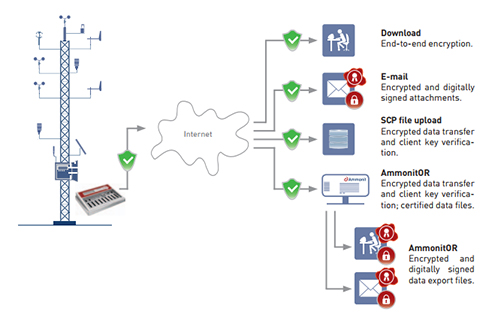 AMMONITOR - YOUR BENEFITS
• Encrypted access to monitoring platform from everywhere and around the clock
• Automated data archiving and storage
• Configurable automatic data import from Ammonit Meteo-40 and Meteo-32 data loggers, as well as ZephIR LiDAR and AQ510 SoDAR devices
• MEASNET-conform data quality check for plausibility and integrity
• Visualisation of measurement data in typical curve charts and plots, e.g., correlations, XY plots, turbulence intensity profiles and shadow zone plots
• Calendar to check data completeness
• Configurable filters to ensure high data quality

• Configurable automatic alert messages after technical defects or suspicious measurement data
• Configurable data exports into selectable file formats, e.g., Microsoft XLS or CSV (Optional: digital signature and encryption available for export files)
• Automatic PDF report generation to record the measurement campaign (optional: individual design according to your corporate design)
• Long-term data storage of up to three years on a dedicated Ammonit server (storage on a server of your choice on request)
• Integrated user rights management